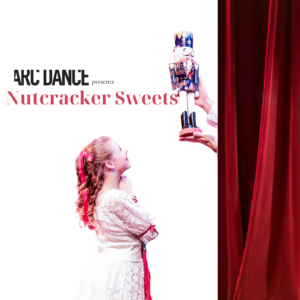 Nutcracker Sweets Performances at ARC:
December 9 at 7:00pm – SOLD OUT
December 10 at 2:00pm – SOLD OUT

December 10 at 7:00pm – SOLD OUT
December 11 at 2:00pm – SOLD OUT
December 11 at 5:00pm – SOLD OUT

ARC Dance brings the magic of The Nutcracker alive for families and the community in this child-friendly version of this holiday classic ballet that will warm your spirit.
A favorite tradition for families across Seattle, all performances held in ARC's large facility in North Ballard/Crown Hill have sold out for the past sixteen years.
Specifically designed to appeal to young audiences, with roughly a 90 minute long running time, Nutcracker Sweets will showcase the talented students of ARC School along with members of the professional Company, ARC Dance. Children and adults alike are captivated by the magic of the music, costumes, and beautiful dancing.
Ticket prices are $18 for children (10 yrs and younger), and $28 for Adults and Seniors 65+ and go on sale October 15th at 10am.