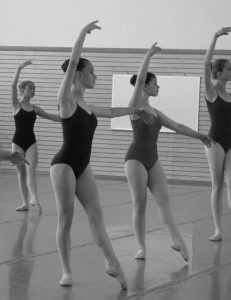 We are currently planning on having students in studio for our four week 2021 summer Intensive program. While our intention is to provide in-person instruction, depending on the Covid -19 climate, we will move to a contingent online training plan, if state and local health guidelines mandate it necessary.
In the event this program is FULL, please join us online for the program by contacting our office directly.
A Four-Week All Day Intensive for Ages 11- 15+ years
July 5 – July 30, 2021
This four week all day intensive offers classes in Ballet, Pointe, Jazz, Modern, Choreography, and Conditioning.
NO AUDITION for this program. Students must register for the full 4 week program.
All Intensive Students will take a placement class on the first day of classes Monday, July 5.
For dancers 11 and younger, please see our Student/Youth Summer Programs
In the event this class level is FULL, please join us online for the program by contacting our office directly.
Class schedule and Faculty subject to change without notice.
The INTENSIVE Program is designed to challenge and push students towards developing skills for a career in dance. The INTENSIVE is for the dedicated serious dance student.
Fun Raiser Performance – Friday July 30 , 6:00pm
In the event we will not be able to hold this event in person, we will create a virtual performance.
The culmination of this year's four week Intensive is a performance choreographed and performed by students of the Intensive. Students are encouraged to explore their choreographic values and creative interests. Please consider a $10 donation to ARC's Sustain Support + COVID-19 Relief Fund for this performance.