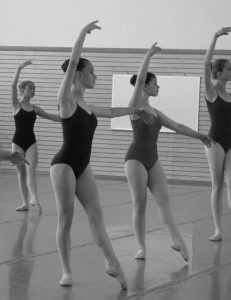 COVID – 19 Update: While the "Stay Home, Stay Healthy" directive is in place, we will conduct remote classes for our Summer Programs. In the event we are allowed to hold classes in our studios in July, we will reassess the situation and respond accordingly.
A Four-Week All Day Intensive for Ages 11- 15+ years
This program is currently FULL and is no longer accepting students.
July 6 – July 31, 2020
This four week all day intensive offers classes in Ballet, Pointe, Jazz, Modern, Choreography, and Conditioning.
NO AUDITION for this program. Students must register for the full 4 week program.
All Intensive Students will take a placement class on the first day of classes Monday, July 6.
For dancers 11 and younger, please see our Student/Youth Summer Programs
Class schedule and Faculty subject to change without notice.
The INTENSIVE Program is designed to challenge and push students towards developing skills for a career in dance. The INTENSIVE is for the dedicated serious dance student.
Fun Raiser Performance LIVE STREAMED – Friday July 31 , 6:00pm
The culmination of this year's four week Intensive is a LIVE STREAMED performance choreographed and performed by students of the Intensive. Students are encouraged to explore their choreographic values and creative interests. Please consider a $10 donation to ARC's Sustain Support + COVID-19 Relief Fund for this live streamed performance.