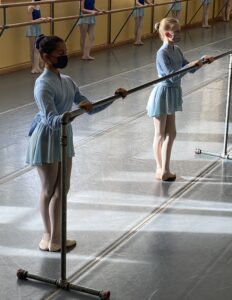 COVID-19: We are currently operating IN STUDIO classes with masks. At registration, students have the option of signing up for IN STUDIO or ONLINE classes. Please know that the safety and well-being of our, faculty, staff, students, and community are of utmost priority.
Detailed guidelines for online classes are issued to registered students.
For Youths ages 6 to 18+
Classes in Pre-Ballet, Elementary, Intermediate Ballet, Pre-Pointe and Pointe
The  Student Program is an after school youth program designed for dance students aged 6 through 18+ years old who wish to train for high achievement, enjoyment and possible careers in dance. With an emphasis on the classical ballet foundation: artistry, musicality, and discipline, the program provides an intimate environment for students to expand their skills and individual creative expression.
Number of classes per week: 1 to 5+
Performance opportunity:  Annual Nutcracker (students must be registered for the full school year), Biennial School showcase performance, Biennial Demonstration performance, Biennial Spring Dance performance