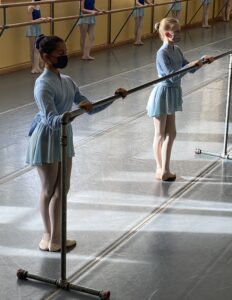 Health & Safety: Masking is currently recommended for all classes. Please stay at home if you have any COVID-19 symptoms. Our protocols will continue to evolve and will remain flexible in order to keep our community safe and healthy. We reserve the right to require health and safety protocols at anytime.
For Youths ages 6 to 18+
Classes in Pre-Ballet, Elementary, Intermediate Ballet, Pre-Pointe and Pointe
The  Student Program is an after school youth program designed for dance students aged 6 through 18+ years old who wish to train for high achievement, enjoyment and possible careers in dance. With an emphasis on the classical ballet foundation: artistry, musicality, and discipline, the program provides an intimate environment for students to expand their skills and individual creative expression.
Number of classes per week: 1 to 5+
Performance opportunity:  Annual Nutcracker (students must be registered for the full school year), Biennial School showcase performance, Biennial Demonstration performance, Biennial Spring Dance performance
2023 Fall Registration coming soon…